"New 1920s-Style Cottage (and Barn) for Horse Ranch"
Traditional Building magazine
May/June 1999
excerpts from article by Leslie Jay:
"New Traditions: Building and Restoring the Period Home"
Photos by Phil Eschbach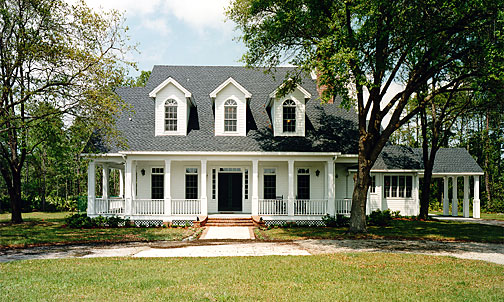 The owners of a 20-acre horse ranch looked back to the 1920s to find a homestead model that would best suit their lifestyle. Latticework conceals a crawl space below the house, which is elevated on piers. The barn (behind the house) picks up some of the house's detailing and style.
How do you establish an unassuming horse ranch in an area that is losing its rural character? Tom Price's clients started with a 20-acre site. To preserve the pastoral feeling within the rapidly developing neighborhood, Price set the house toward the middle of the property and arranged sightlines so that the owners could see the barn from the kitchen windows. The plot also includes two dressage rings and a feed-storage shed. Suburbia is kept at bay by the unbuilt land.
The house itself is deceptively unassuming. "The primary goal," Price says, "was to create a vintage, 1920s-style raised cottage home." The owners opted to pay more for authenticity. Instead of mounting the building on cement slabs poured on grade, and saving about $6,000, Price was urged to use elevated-pier construction. This method lifts the house about 30 inches off the ground. (In keeping with period techniques, the crawl space was covered by lattice fretwork.) Allegiance to tradition has its own rewards: Breezes blowing beneath the house help keep it cooler. A wraparound porch, screened rear porches on both stories, and deep overhangs above most of the doors and windows promote cross-ventilation, an important consideration in Florida.
Another unusual feature of the house is the porte cochere, which fills two functions simultaneously. The first is aesthetic: It blocks the view of the three-car garage. "The owners wanted to keep the garage from dominating the house," Price explains. The second concern is practical: the porte cochere leads to a mud porch with an adjacent bathroom and laundry area, so resident equestrians can clean up before entering the house.
Wherever it was logical, Price opted for historically accurate materials. The front porch has wooden columns and railings, as well as a bead-board ceiling. Inside, oak floors rest on two-by-ten joists. "The floors give a little when you walk," the architect notes. "The house has resonance." The siding, however, is Hardieboard, a fibrous manufactured wood that is impervious to rot; the roof was shingled in Elk Prestique Plus fiberglass. Similar materials were used in the barn, which has columns, dormers, and a porte cochere of its own.