Best in American Living Grand Award:
Best One-of-a-Kind Custom Home
Under 4,000 square feet
Professional Builder magazine, January 1997
Photos by Phil Eschbach

This Grand Award winner echoes a Craftsman theme: at once rustic and contemporary, using cedar columns, beams, stonework and mitered glass. Inside, the glass spiral stair-with birch stringer and treads to match other trim-centers an open floor plan. Mitered glass exterior corners provide sweeping views of grounds and lake.


Here's a case of apprentice besting master. Three years ago, architect Tom Price of Orlando, Fla., designed a 7200-square-foot Craftsman-style home for a one-acre lakeside lot in the gated community of Cypress Point. The client recently bought the lots on either side and commissioned Price to design a 2200-square-foot freestanding cottage to house guests.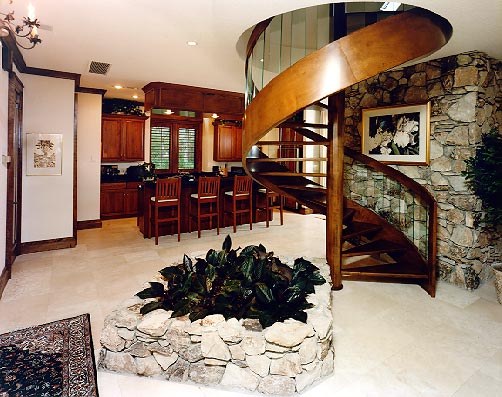 He assigned the job to project architect Jeana Burt. It was built by Orlando custom builder Jerry Young. "This is one of those occasions where the sequel is better than the original," Price says.
The cottage is a masterpiece in wood, stone and glass. For example, take the stonework: "desert driftwood" trucked from California's Mohave Desert. The tiled roof is distressed toresemble cedar. Each upstairs bathroom contains a custom-designed stained-glass door. A clerestoried cupola tops the circular central staircase, providing a crowning touch to both exterior and interior.
"Every piece of trim in the house is custommade birch," says builder Jerry Young.
The guest house stands out, but it also has to know its place. "We didn't want it to compete with the main house twhich is a ranch]," Burt says. "So, to avoid full two-story massing, we nested the second floor in the gabled roof."
As a result, the upper rooms have ceilings that vault from 6 feet to just under IO. The first floor has flat ceilings at 10 feet.The home is sited perfectly-facing east-so that from the living room or back balcony, guests watch the sun set over the lake. Jerry Young built the guest house for $200 a square foot in hard costs.