"Contemporary Kitchens Go to Work"
Orlando Magazine, November 1996
written by Denise Salvaggio
Photos by Eric Dusenbery

Three sleek Orlando kitchens prove that a contemporary style doesn't have to feel sterile.
What is it about a contemporary-style kitchen that fascinates some, yet alarms others? The self-assured vibes such a kitchen transmits may be part of the answer: Devoid of ornamentation or silhouettes that reference another era, the contemporary kitchen silently offers a challenge to those who depend upon yesterday's design to keep up with today's fast paced world. Yet as the following three examples attest, "contemporary" is far from being synonymous with "impersonal."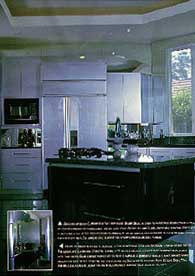 At left: Designed by Jeana C. Morrison, the Steven and Sherri Siegel kitchen plan [home designed by Tom Price Architect, P.A.] features specific work zones, following a triangular arrangement within each zone. Despite the area's size, everything is within easy reach at any given stage of the food preparation process. A pair of vertical, wall mounted pull-out pantries enhance the futuristic tone. All vertical wall surfaces are covered with clear plate mirrors.
Maximum dramatic impact is delivered by the prototypical sleek contemporary kitchen of the Siegels. The distinctive silver-look cabinetry is made of Vitricor, a metallic laminate that combines visual depth with high gloss. Some cabinet facings are brushed aluminum. A border of absolute black granite wraps around the base of the cabinetry for extra definition. Says Interior Designer Fleta Collins-Tachi: "The materials used for this design are polished, luxurious surfaces from floor to ceiling."

There's more to this sophisticated center island [Siegel Residence, picture at left] than meets the eye. The multilevel counter serves as a baking center on the lower level, which is situated at a comfortable height for kneading and rolling out the dough. The mid-level accommodates cutting and chopping, while the top level acts as a visual break. Storage drawers keep essential utensils close at hand.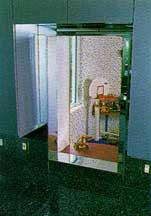 A sliding window [Siegel Residence, picture at left] gives visual access to the children's "Imagination Room." The kitchen also opens to the family room, truly making it the center of the Siegel's home.

When a contemporary kitchen is carefully planned, the effect can be just as inviting as any heart-of the-home fashioned of wood, stone and wrought iron. In fact, wood need not be banished from the contemporary culinary center. Combined with other materials, as in the kitchen of Jim and Barbara Grodin, wood adds an intriguing texture that complements rather than dominates.
Among the advantages of contemporary kitchen design is extra room for creativity. "You don't have to adhere to one style," says Elizabeth Anne Goater, kitchen designer for Design Cabinets and Furniture Inc. "You can pick up on the curves and angles in the interior architecture to do something that wouldn't be acceptable in more traditional styles. The 'boxy' look people tend to associate with contemporary is then eliminated. "
A dialogue of differing, complementary surfaces and textures is also essential, Goater says. Mixing high-gloss and matte finishes with brushed chrome and granite creates visual variety, as does using cabinetry with a two tone finish, an inlaid geometric pattern, a burl finish or imported veneer. Metals-from chrome to steel or brass-provide beautiful accents.
As in any successful design, however, form follows function. Each kitchen profiled within the following pages features special elements that maximize convenience and performance specific to the family for which it was created. Look for cabinet doors that open to reveal food preparation stations with special places for a mixer, toaster and coffee maker; sleek chrome pull-out pantries; floor-to-ceiling cabinetry for storage; and bi-level island countertops to accommodate the preparation of both pastries and vegetables.
For the utmost in specialized function, the Grodin kitchen was designed by Roland and Joan DesCombes of Architectural Artworks in accordance with kosher dietary laws. The simplicity of the kitchen's lines and layout makes it easy for family members to use the area appropriate for each function: meat is prepared on the right side of the kitchen; dairy on the left.
Regardless of the purpose the kitchen is intended to serve, good contemporary style never looks dated. A case in point: the kitchen of Bob and Lisa Feldman, planned by interior designer Scott Carter seven years ago in conjunction with the home's construction. Glamorous in haze-tone laminate cabinetry with black handles for accents, it remains fresh and functional for the couple's growing family-even by today's standards. END