"At Home With Aaron and Vilma Dowd"

Metro-Orlando Homes magazine, October 1989
written by Gwen Thomas
Photos by Mark Cunningham

Perhaps they could be described as a typical professional couple of the times. Their demanding careers, responsibilities to family, and volunteer work in the community encompass their lives. But Interior Designer Vilma Dowd describes herself and her husband simply as "busy people."
In addition to her career, Vilma is active in fund-raising for several Central Florida arts and science groups. Her husband, Aaron Dowd, is the vice president of Debra, Inc. of Florida, the Orlando-based developer of Metro-West, an 1,800 acre commercial and residential development in West Orlando. Together, the couple find balance in their lives by "delegating" areas of expertise. Land use and community developments are Aaron's territory. He spends his time studying ecology and traffic reports." When it comes to beauty, or the insides of buildings," he says, "that's Vilma."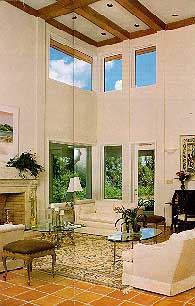 One shared appreciation the Dowds have is Mediterranean architecture. Their home, on Lake Down, the first lake on the Butler Chain of Lakes, is just that, and also reflects their lifestyle. Built of stucco and tile, the house is elegant and casual. "It has a very comfortable feeling. With the tile and stucco, the house is very low maintenance," says Aaron.
Architect Tom Price worked with the Dowds in creating the home of their dreams. "We didn't want an 'eighties' look, but rather a natural look that could belong to any decade. This [house] could be anyplace and any time," adds Vilma.
The property's landscaping is "old Florida," with native plants and about twenty-five orange trees, reminiscent of the orange grove that once existed there. "We came out here one day and they were bulldozing, and we stopped them," Aaron explains. "We thought, 'Hey, this is Florida.' I tagged a lot of our neighbors' trees, too. I figured if they wanted to take them down, they could. But at least they'd have the choice. We kept the landscaping simple because it's easy to maintain, and it flows nicely."
From the house's many windows, there's a view of Lake Down. It was the Dowds intentions in designing the home to "bring the lake to the house." The dining room and all the bedrooms have plantation shutters; the rest of the windows are uncovered.
The living room is dominated by the view of the lake and by a sculptured tapestry, five and a half feet by seven feet, which hangs over the fireplace. The furniture is cool and comfortable. The Mexican tile floors throughout the downstairs are accented with oriental rugs. The floors are a favorite with Vilma, since the style not only worked well in her previous home, but requires little upkeep.
Facing the lake is the living room, television room, game room, and master bedroom. The kitchen, dining room, and Vilma's office are situated away from the lake. From the living room, a curving brass and rod iron banister leads upstairs to three bedrooms and a sitting room that overlooks the living area, and has its own view of the Dowds dock and boat.
The walls are decorated with several pieces of art by Hal Larsen. "I have his work at MetroWest, also." says Vilma. "I like the colors he uses, and his medium. The open spaces he depicts are typical of the Southwest region of the United States."
The master bedroom is Country French, with a canopied, wood-carved oak bed. The dressing area features twin master and twin linen closets. Both the walls and floors in the master bath are in travertine marble. Windows around the Jacuzzi open to a privacy garden.
An open-air porch stretches from the master suite across the length of the house on the lake side. Since the Dowds enjoy cooking out, the porch makes it convenient and inviting. "During the summer, the whole family spends weekends at the beach," says Vilma, "but the rest of the year, we like to relax and enjoy the lakeside, and use our outdoor grill."
Above the three-car garage is Vilma's studio, one of the only rooms not intentionally designed to capture the view outside. From here, she does her designs. Photos of their three children line the walls. On tables, cabinets, shelves, and the floor are wallpaper and fabric samples, catalogs, paperwork, computer supplies, and drawings. Working away from the house, Vilma feels she can "spread out" her work materials without worrying about leaving a mess. "This way it's completely divorced from the house. I work faster this way," she says. "Then, when I'm done with a job, I just file everything away and start again."
Vilma designed MetroWest's clubhouse, which received an Aurora Award for Best Recreation Facility. That, however, is the extent of her affiliation with her husband's company. "I do models for builders who build throughout Central Florida," she says, adding, "and I do other designing for corporate and individual clients."
Aaron, however, doesn't bring his work home with him. "I'm only about two miles away from MetroWest," he says. "I bring home my attaché case, but that's about it. I like to keep things separate."
The 1800 acre community and residential development of MetroWest has enough plans on the board to keep Aaron busy at the office. Eventually, the development will house approximately 10,000 people, offer more than 8 million square feet of office and retail space, and accommodate visitors with 1500 hotel rooms. Currently, MetroWest has 1300 apartment units, and 700 single family homes or villas built or planned. Plans have been announced recently for MetroWest's most exclusive development, Palma Vista, featuring homes priced from $250,000 to $800,000. With a work pace like that, it's no wonder that going home is a release for Aaron.
One thing both Aaron and Vilma enjoy doing at home is reading. Off the living room is the television room, a comfortable place with couches, television, and oak book cases loaded with travel guides, spy stories, and back issues of National Geographic. Encyclopedias and University of Tampa year books are shelved next to fiction by Tom Clancy, Ken Follett, Robert Ludlum, and James Michener.
"I'm an avid reader," says Aaron. "I devour books. So does Vilma. (Often they read the same books, passing them back and forth.) I enjoy suspense novels; they're such a thrill. And also books like Taipan and books on China."
Since the Dowds travel often as a family, they make it a point to study travel books. "Before we go someplace, I see where the tours stop. I figure if three or four stop at the same place, it's someplace we should see. Then we go see it on our own."
The Dowds have two daughters and a son, (Cristina, Andrea, and Aaron, Jr.), who experience foreign travel on their own. "Our daughter Andrea spent a month in Spain with our exchange student who spent last year with us. Our other daughter, Cristina, was home from American University, where she's studying foreign service." Together, the family visited England and Ireland, where they collected information on Irish Dowds and ordered a family crest."
Back at home, the family spends more time together than you would think possible. Father and son compete at golf, fishing, and at pool. Their game room, a large, airy room open to the kitchen, sports one of Aaron's catches, a sailfish, mounted and hanging on a wall near the pool table. "Aaron Jr. is very good at pool," says his father, "but I'm getting there .
Again, it would seem they balance their public lives with their love of leisure. "Busy people always find the extra time," says Vilma. It seems to apply to family time as well as community service. END