"Bewitching Kitchens"
Florida Home & Garden magazine
September 1988
by Marjorie Klien
Photo by Bob Braun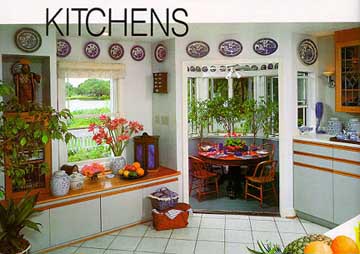 A lifetime's collection of antiques, baskets, china from Scotland, and old wooden country furniture creates a cozy eclectic kitchen in Orlando (home designed by Tom Price Architect, P.A.). "Everything has a story," says the owner, and indeed, it looks like a storybook cottage. But in reality, it is a new home made to look old, built on the site of the old house, which this resembles. The breakfast area, formerly a gazebo, was recently added; its six-sided windows overlook a lake.
Ever since the first caveperson whipped up a stegosaurus stew, the place where food is prepared has been the heart of the home. No other room welcomes us like a cheery kitchen filled with the musical clatter of pots and pans, the colorful still lifes of fruits and vegetables, and changing fragrances from simmering pots of soup to baking bread. It is the rhythm of the kitchen that sets our domestic metronome and sings to us of hearth and family.
Our kitchens are intrinsically functional spaces. If they combine both efficiency and beauty, they become timeless in design. When planning a kitchen, function should be the primary goal. No matter how beautiful a kitchen may be, if it doesn't work, it is a mere facade, a good make-up job on a bad actress.
The efficiency of a kitchen depends greatly on the placement of the work areas. Storage, preparation, clean-up and dining are the four functions to consider when planning a kitchen. The stove, refrigerator and sink are considered the "work triangle:' linked by counter areas for food preparation, mixing, and serving.
In kitchens, smaller may often be better; too many steps between points of the triangle can make preparing a meal a long-distance race. While the great expanse of a country kitchen may look wonderful, a well-planned small city kitchen may require less in the way of aerobics. L-shaped, U-shaped and galley kitchens afford compact work areas; cavernous kitchens may benefit from the addition of a work island in order to shorten distances.
The ideal kitchen could be hosed down after the preparation of such Jackson Pollack-esque meals as spaghetti. The next best thing is to have surfaces-floors, countertops, cabinets, backsplashes-that wipe clean with no effort.
Floors of tile, marble, granite, terrazzo, brick and slate are elegant and easy to clean, but are often hard, cold and expensive. Until recently, the kitchen was considered off-limits for wood floors, but today's polyurethane finishes eliminate the need for waxing and make cleaning a cinch Cushy cork flooring has also been improved by the addition of polyurethane. Vinyl, perhaps the most practical material, is also the most popular kitchen flooring, and comes in a wide range of patterns and colors. Pirelli rubber equals vinyl in durability and ease of upkeep, and is soft and springy underfoot. And old-fashioned, inexpensive linoleum is making a comeback, especially in retro kitchens that call for that bit of authenticity.
There is no perfect countertop material; all have their pluses and minuses. Counters and backsplashes of tile are beautiful, but may chip easily, be noisy, and have a continuous case of moldy grout. Mica comes in an endless array of colors and textures, but is neither cut- nor heat-proof. Corian is durable, cleanable, but expensive, and some find its opalescent quality incompatible with the effect they desire. Stainless steel is cold, noisy, and costly, yet durable and easy to clean. Granite and marble are as close to ideal as you'll get, but be prepared to spend for perfection.
Cabinets of wood are beautiful, giving the kitchen the aura of a living area,, but they are hard to clean and expensive. Mica is usually the material of choice for the practical kitchen. But it is not so much the exteriors as the interiors of cabinets that create the truly functional kitchen. When building from scratch, cabinets may be installed with adjustable shelves, pullout racks, baskets and other gadgets that make reaching that gizmo in the back of the drawer or storing those odd-shaped pots easier. If you can't acquire these time-savers already built-in, they may be added with units such as those available from Rubbermaid.
Whether the kitchen provides background for coq au vin on great-aunt Portia's antique china or Chinese takeout in cardboard containers, it should reflect the lifestyle of its owners and welcome its guests. END