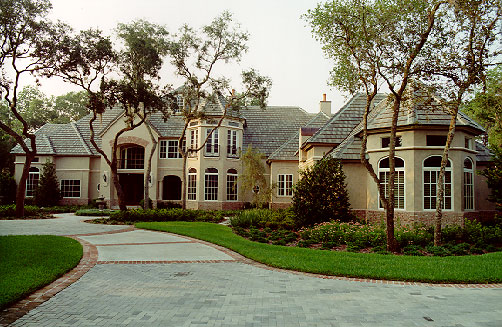 French Eclectic Mansion
Best in American Living Gold Award Winner:
Best Custom Home in the Nation Over 7,500 s.f.
Aurora Award for Best Custom Home
Our clients asked for this home's design to provide an environment of casual comfort to enhance the lifestyle of its family, to provide an atmosphere of elegance and intrigue for entertaining, and to maximize the view of the lake. The approach to this 8,170 square foot home is picturesque, reminiscent of French Country Architecture. It is composed of brick, stucco, cast stone and heavy timber; earthy but well-crafted materials which provide an ambiance of warmth and timelessness.
The living and entertaining rooms as well as outdoor areas are interconnected and modestly scaled to comfortably accommodate a party of 4 to 400. Guests have the options of singing around the piano, having drinks at the bar, gathering near the fire, playing billiards upstairs, dining formally or outdoors near the pool, or lounging on the balcony. Level changes and overlooks create drama and interest. A central corridor is the primary ordering element, and also offers a sequence of events from the entry stair and dramatic view through the living room, to an intimate wine cellar, past a two-sided masonry fireplace which is open to and on axis with the formal dining room, and into the more casual family areas.
All of the bedrooms and major living areas overlook the lakefront through a fringe of cypress trees. The Master Suite is given the most elevated and central location above the living room, which has a ceiling height of 15 feet. Its French windows open off the major bay, offering a spectacular vantage point of the pristine water and conservation area. From the massing and spatial relationships to the intricacy of its details, this is a home which is harmonious, gratifying, and a delight to the senses.