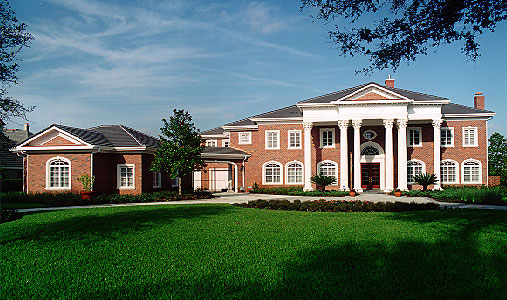 Greek Revival
This 7,811 square foot mansion possesses a stately elegance derived from the use of classical proportions and detailing. In the foyer, a circular stair draws the eye up to the higher levels, and culminates in an exquisite dome.
The main living area, consisting of dining room, family room, billiards and wet bar, is an open plan organized around the central stair. It is ideal for an active family and for entertaining. The family room boasts a 14-foot ceiling and a trio of majestic arched windows which allow a full view of the Florida sunsets. Past the arched windows, a spacious screened porch links the living area with the outdoor pool and playground. Adjacent to the family room is the kitchen as well as a play room complete with an elevated toy train.
Five bedroom suites, including the master, are on the second level. An exercise room and office are located an additional half level up, both of which open onto a large balcony providing a commanding view of Lake Bessie.
Builder: Pellegrini Homes
Interior Design: Smith Earnest Interiors
Landscape Architect: Redmon Design
Photography: Phil Eschbach