407-422-4422
tom@tompricearchitects.com
To receive a Detailed Proposal of our fees and services at no charge, or to schedule a meeting by phone or in person regarding your home-building project, simply mail or e-mail the following items to us:
1. A letter introducing yourself and your home-building project, with a written program listing your needs, wishes, and style preferences. You may include pictures that indicate your likes and dislikes. Please include your full return address.
2. Photos of your homesite and the views around it. (If e-mailing photos, they should be in PNG, GIF, JPG or PDF format and sent as attachments.)
3. A copy of your certified survey.
This information enables us to accurately estimate our scope of work in service to you, which will be reflected in our proposal.
Mail the above items to:
Tom Price Architect, P.A.
552 Lake Avenue
Orlando, FL 32801
Or e-mail them to tom@tompricearchitects.com

For sites located outside Florida or the U.S., you have the option to limit our services to the Schematic Design / Design Development phase of our work. Thus you can take advantage of our design talents while having the production documents completed locally for your site. To prepare such a proposal, we will still need the information listed above.
International sites: We're skilled in period styles from around the world, and can work in the English or Metric scale. We can communicate with or without site visitation via e-mail. Our emphasis on program development ensures appropriately designed homes anywhere.

What about our fees?
Our fees are clearly expressed in our proposal. They represent each stage of professional service and are based on our scope of work as derived from the information you send us. Our fees are a relatively small component of your total home expenditure, yet our design is critical to the success of your entire project -- including the best use of your valuable homesite, not to mention your personal satisfaction. Many clients have told us that our fees were the best value in their entire home-building process.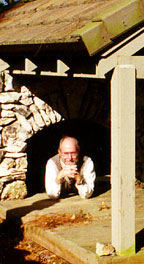 Along with each home design comes a free doghouse design, in the same style as the home -- and tested by the architect!